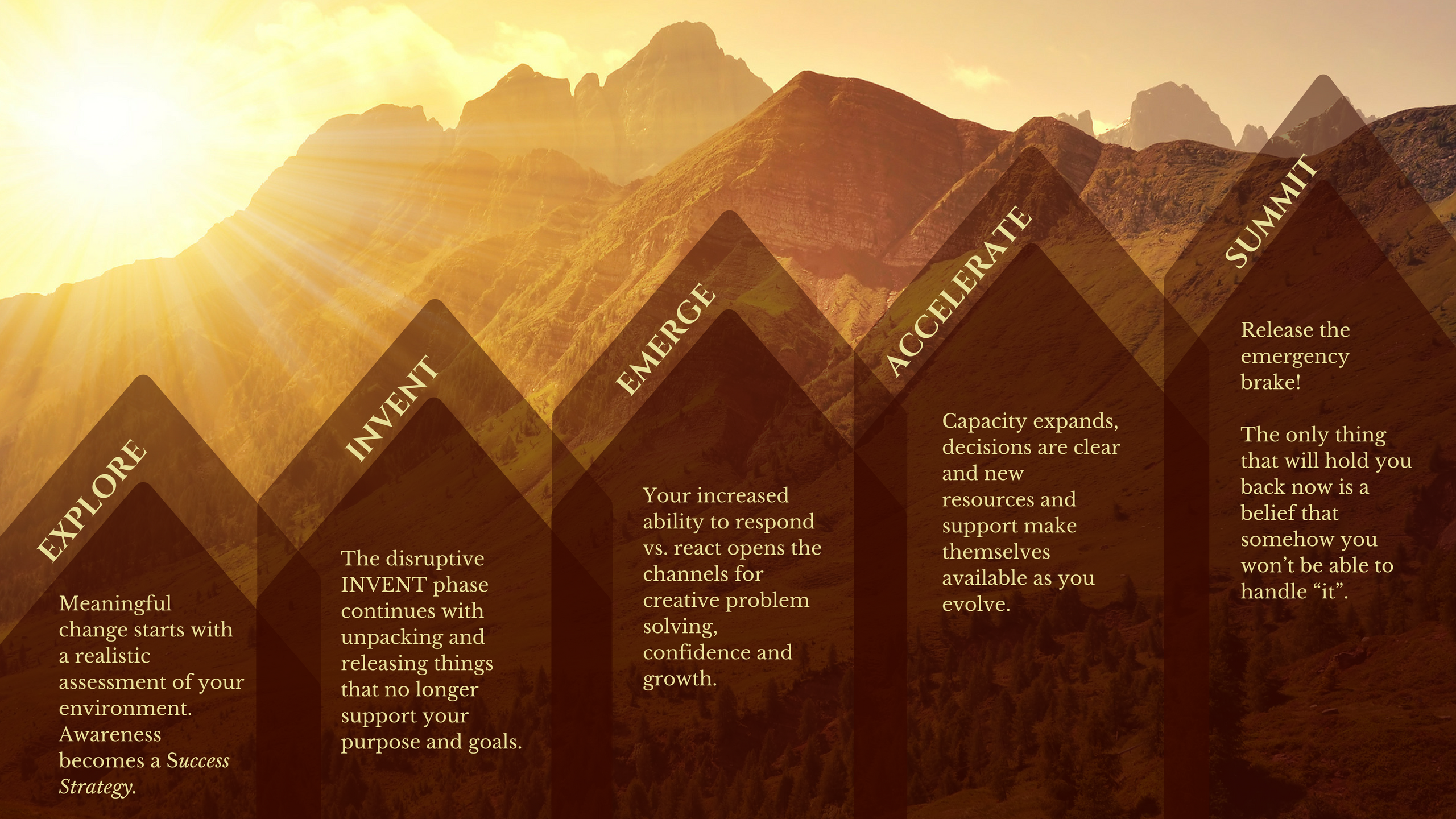 Work With a Proven Process
What's next for you may look possible, even easy from a distance; but up close the potholes, pitfalls and detours become real.  Your plan may start to feel daunting and you may wonder why you wanted to accomplish this goal in the first place.
 Working with you I will use my proven 5-Step Process to propel you in a new direction of thinking, feeling and experiencing.  The work you do in one phase will always be influencing the others and your progress may come in bursts.  Here is an introduction to my process.
 EXPLORE
Meaningful change starts with a realistic assessment of your environment.  You have thoughts but you are not your thoughts, and you will learn to become the observer of your thoughts.  You are much more than what you are thinking at any given moment.  In the EXPLORE phase, Awareness becomes a success strategy. 
 INVENT
The disruptive INVENT phase continues with unpacking and releasing beliefs, thoughts and habits that no longer support your purpose and goals.  With careful observation, the relationships, environments and behaviors that have held you back become apparent.  Releasing this baggage clears the way to design your new future.  The key to success in the INVENT phase and beyond is to establish support structures for observing.  Using this model the thought-patterns from the past are not invited to return.  Invention often emerges when we are free of conditions and circumstances, avoiding reinvention of the past.
 EMERGE
With a growing ability to replace low-level thoughts and words with self-empowering thoughts and actions, a more grounded and confident YOU emerges.  Your increased ability to respond vs. react to information, opinions and conversations opens the channels for creative problem solving, confidence and growth.
 ACCELERATE
Capacity expands when decisions are made from a grounded foundation.  No longer distracted by your own emotional drama and resistance to change, decision paths are clear.  New resources and support make themselves available as you evolve.  The key to success in the ACCELERATE phase is to be comfortable with chaos.  
SUMMIT
Release the emergency brake!  The only thing that will hold you back now is the belief that somehow you won't be able to handle "it" – handle the success – the attention – the responsibility – the freedom. 
Free Strategy Session
I invite you to look at an area of your life where you might be at a crossroads.  Where do you have the opportunity to choose a new way of thinking and acting that will bring you peace and focus?  The journey to the next version of you can be jagged.  I will support you each step of the way.